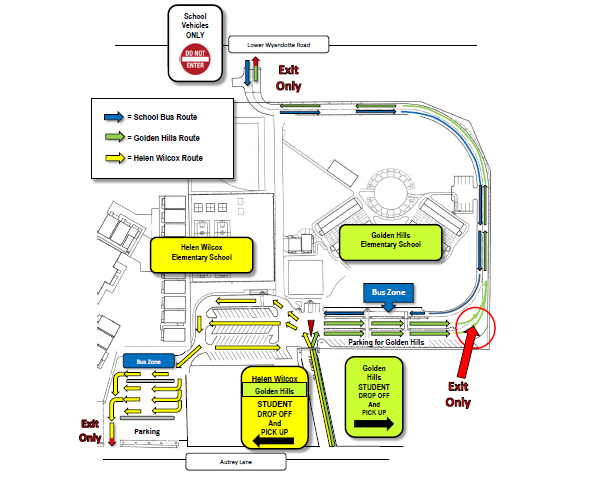 Important Changes at Golden Hills
Kristi Robinson
Tuesday, August 07, 2018
Important Changes at Golden Hills and Helen Wilcox Parking Lots!
We need to inform you of some important changes for this school year.
Pick Up and Drop Off at Golden Hills and Helen Wilcox
Please see the attached map for changes related to the pick up and drop off procedures at Golden Hills. All traffic must enter from the front of Golden Hills off of Autrey Lane. The back entrance to Golden Hills (the Lower Wyandotte entrance) is now an exit only with the exception of school busses.
Once you enter the Golden Hills parking lot, you will be directed to the right two lanes for drop off or pick up of Golden Hills only students. If you are dropping off or picking up both a Golden Hills and Helen Wilcox student or a Helen Wilcox student only, you will be directed to the left hand lanes.
Parents who are only picking up Golden Hills students will exit through the back gates onto Lower Wyandotte Avenue. Parents who are picking up students from both Helen Wilcox and Golden Hills (in front of the playground at Golden Hills) can exit through the Via Canela gates or can exit through the Helen Wilcox pickup area.
Please note that at NO TIME is a U turn allowed in the drop off or pickup areas. This will be strictly enforced.