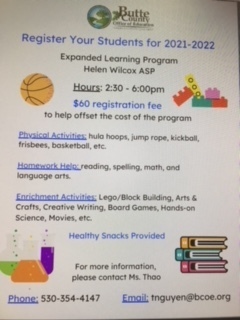 Registration Information for the ASP
Maria Tello
Thursday, June 03, 2021
Expanded Learning Program - Helen Wilcox ASP.
Dear Parents/Guardians,
Our ASP now have an open enrollment for Helen Wilcox students in the upcoming year 2021-2022. The program will take the first 100 students on a first come first serve basis.
In order to be able to register for your child/children to be in the ASP, you need to fill out all the paperwork that includes:
Enrollment form (2021-2022)- Make sure you sign/date at the end of the paper.
Parent Permission Form – Sign and fill out Health Insurance and Policy number.
Everybody Has Responsibilities. Make sure you go over the paper with your child/children to let him(her)/them know what are expected in our ASP, then you both sign the agreement at the end.
Registration Fee is $60.00 per student. This will be collected in the form of CASH with the exact amount of money.
All papers and fee are due on June 18. Incomplete applications will not be accepted.
Please call (530) 354 – 4147 or email tnguyen@bcoe.org to make an appointment for turning in your paperwork at Helen Wilcox ASP from 1:30 – 4:30 since parents are not able to come into the cafeteria at this time due to restrictions.
If you have any questions, please contact Ms. Thao by email tnguyen@bcoe.org or phone (530)-354-4147
I'm looking forward to seeing you and your child/children in the ASP.
Thao Nguyen – Helen Wilcox ASP Site Coordinator