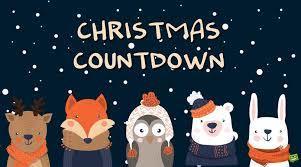 Countdown to Christmas
Carla Wiemers
Wednesday, December 02, 2020
December 7th: Spirit of the Season...Wear red and green!!
December 8th: Wear a Santa Hat
December 9th: No place like home for the holidays...Wear your favorite Golden Hills swag!
December 10th: Deck the Halls...Wear any Christmas bling!
December 11th: Flannel or PJ Friday! Wear your favorite flannel shirt or pajamas!
December 14th: The Most Wonderful Time of the Year...Wear your favorite holiday shirt!
December 15th: Festive Feet...Put on your favorite holiday socks!
December 16th: Wear green today and do a random act of kindness for someone!
December 17th: Christmas Sweater Day!